Most estate managers are unaware that they are slowly being pulled into a personal assets/logistics sink hole. More and more estate owners are fast approaching an age where the items they own are starting to "own them" and the personal estate manager are being asked to help manage the result of decades of accumulation; vast, seemingly endless collections.
As if juggling the hectic day-to-day schedule of a UHNWI wasn't enough, now the estate manager are having to find a way to figure out how many pieces they own, where they are and how they can liquidate all of these items as the estate owners age and become less and less capable of managing these collections themselves.
William C Huff White Glove Moving and Storage Companies has had the privilege of helping many private families with the logistics of moving, storing and sorting their personal household collections for many years. As many families' wealth increased over the years, so did their accumulation of personal possessions. Artwork, heirlooms, antiquities and wine as well as massive personal interest collections have become so large that warehouses now hold many of the items. Family members who do not want some of these items now have relinquished these to us for indefinite storage "to be sorted at a later date!"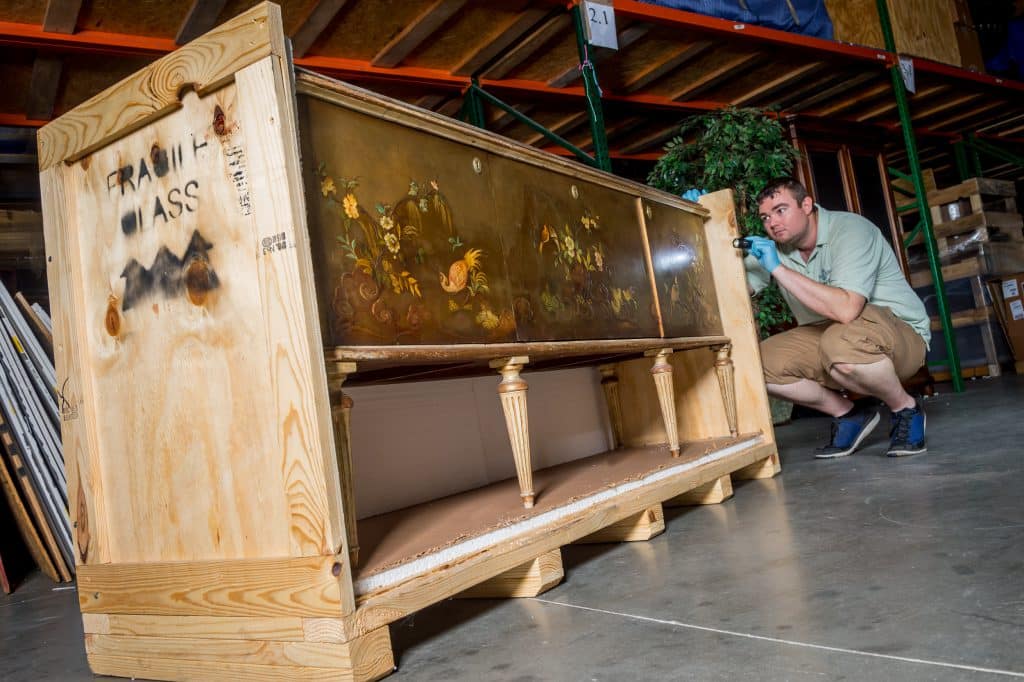 As a specialist in handling these items (and with bountiful data about the amounts and frequency of movement of these accumulated possessions) Jim Henderson, owner of William C Huff Companies began speaking to estate manager publicly in 2012 at the National DEMA Convention in Los Angeles  about how the aging demographics of America would be affected by the downsizing trend. The massive amounts of accumulated possessions would need to be sorted, stored, moved and handled over just 20 -25 years, after more than 50 years of collecting. Finding trusted sources for helping estate managers with this daunting task would become one of the estate managers' biggest challenges.
Fast forward seven years and we are just starting to feel the early signs of this downsize. With more than 85 million North Americans over the age of 60, the 1% UHNWI are quickly approaching the point at which major logistics will become front and center in their families' lives. These are just a few of the conversation topics with estate managers and their estate owners:
Who gets what?
When do we downsize, what do we keep?
How long will we manage certain collections internally?
Who can we donate to?
Who do we hire to handle the moving and storage of all these items? 
Many estate owners try to ignore the inevitable and believe they can handle everything. Until it's too late at which point it becomes crisis time for the estate managers!
As a long trusted partner of many private families and their loyal estate managers, William C Huff Companies has been working diligently for several years to come up with a simple solution which would help estate managers get ahead of the up-coming tidal wave of asset assessment, allocation and logistics. Unlike most everyday households, private estates are often filled with priceless collectible items which when handled, stored and transported, not only need trained, experienced professionals, but also need to have ultimate private security from outside cyber threats. This has been an all-consuming process for more than six years the William C Huff Companies has come up with the perfect, secure solution to help estate managers with this gargantuan task.
Partnering with the EstateSpace suite of comprehensive, encrypted estate management services, the William C Huff White Glove Moving And Storage Companies are ready to make available "EstateSpace" to all of its' valued UHNW clients and their loyal estate managers. Combining EstateSpace with our comprehensive suite of secure logistics services, will make all estate managers' lives much simpler and more importantly, free our estate managers' valuable time up, so they can focus on taking care of the day to day activities of their own families. After all, we all know that giving our estate owners better quality of time with their families and friends is ultimately what they want most in life! And with declining age and health issues, quality family time will become priceless!